I enjoy cooking, but most of all, I like to make desserts because I love smelling like vanilla and cinnamon. I know that it can be a little tricky when it comes to sweets due to the large number of ingredients that must be combined or the amounts used. But I also believe that it can be fun and easy if it doesn't get overcomplicated. Therefore I share with you this simple Carrot Cake recipe that never failed me and that it will only take you around one hour to make.
I grew up in a house in which my mother made desserts almost weekly, and I like to think that this habit was transmitted to me as well. I prefer homemade desserts over the ones you can buy from shops because I know what they contain. Another reason why I like homemade cakes is that I can limit the quantity of sugar. When you have kids, this aspect becomes even more important.
I like carrot cake a lot. I like the texture, the smell, the flavour and the idea of inserting a vegetable into a dessert. A few years ago, I found the perfect combination of ingredients for an effortless Carrot Cake. 
I use organic and plant-based ingredients for this recipe. Still, you can use any variation you prefer: milk, plant-based milk, vegan yoghurt, butter, coconut butter, vegetable oil, brown sugar, stevia sugar, etc. You can play with the ingredients and use what you like or already have in your kitchen. 
If you can, please consider buying some ingredients from local farmers or small businesses. We need to support each other and create beautiful relationships within our community. If you are interested in this subject, check out this article and see the benefits of supporting small businesses.
Let's Make It!
This carrot cake recipe is pretty easy, but let's walk through the process together and have some fun.

Wet ingredients
Start by separating the eggs whites from the yolks in two separate bowls. Mix the whites with the mixer until it foams. After the foam is formed, add four spoons of sugar and mix until it is all combined. Set aside.
In a different bowl, mix the yolk with a pinch of salt, vanilla, zest of a lime, juice from half a lime, ginger, five spoons of milk, and four melted spoons of coconut oil until all are combined. Pour the mixture over the whites and mix until it is combined.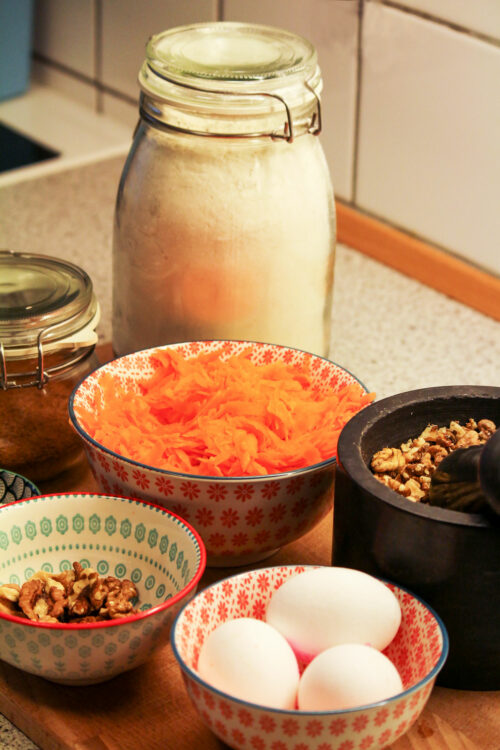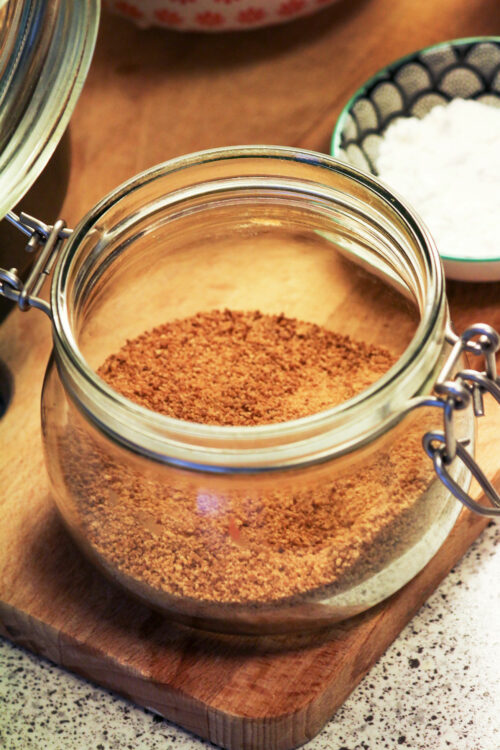 Dry ingredients
In another bowl, whisk flour, baking powder, cinnamon and nutmeg. 

Carrots
Clean, grate and squeeze the carrots. 

Combine
Pour the wet ingredients into the dry ingredients and using a rubber spatula or wooden spoon, fold the ingredients together until it is combined. Fold in the carrots along with one cup of lightly crushed walnuts.
Bake
Pour/spoon the batter evenly into a loaf pan. If you have any nuts left, you can put them on top of the composition. It will give the loaf a beautiful appearance and will make the crust more crunchy. Bake for 30-35 minutes at 200 °C. Test the centre with a toothpick. If it comes out clean, the loaf is done. If not, continue to bake until it is cooked through. Do not over-bake. Allow the loaf to cool completely. The carrot cake must be completely cool before adding the cream.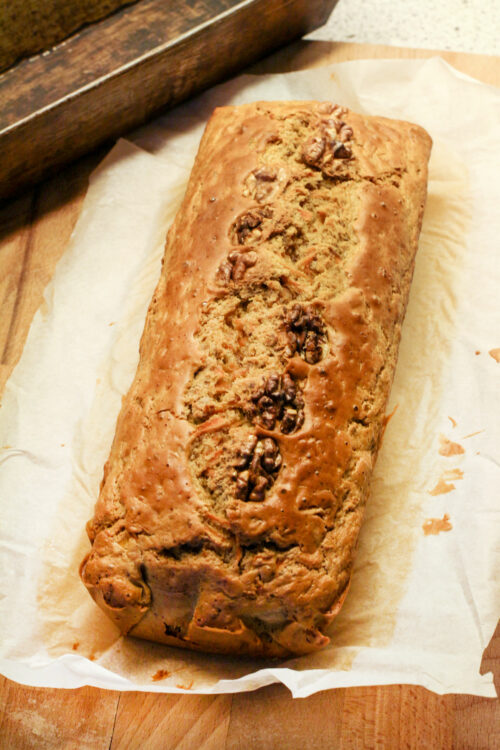 Prepare the cream
In a bowl, using a spoon, mix the yoghurt with two scoops of melted coconut butter or any other butter you have, two spoons of sugar, the remaining juice from the other half of the lime and a few lavender flowers, if you have. Mix the ingredients with a spoon until there are all combined, and place the cream in the fridge for half an hour. 

Assemble
Cover the top of the loaf with cream. Sprinkle a few lavender flowers and a few rose petals. Cut into slices and enjoy.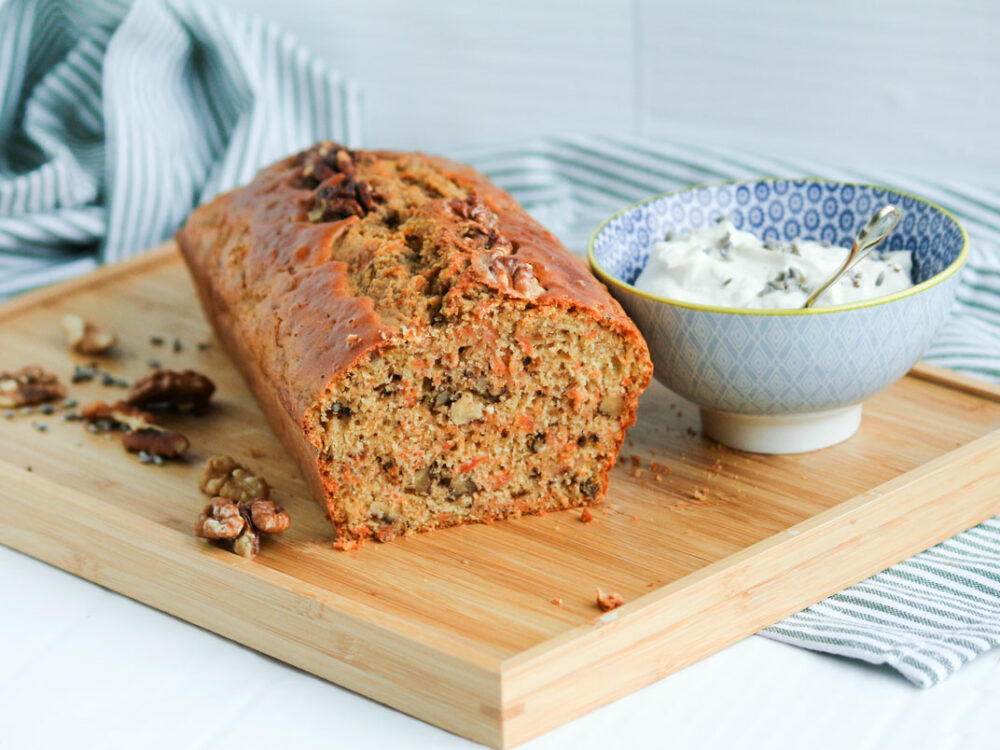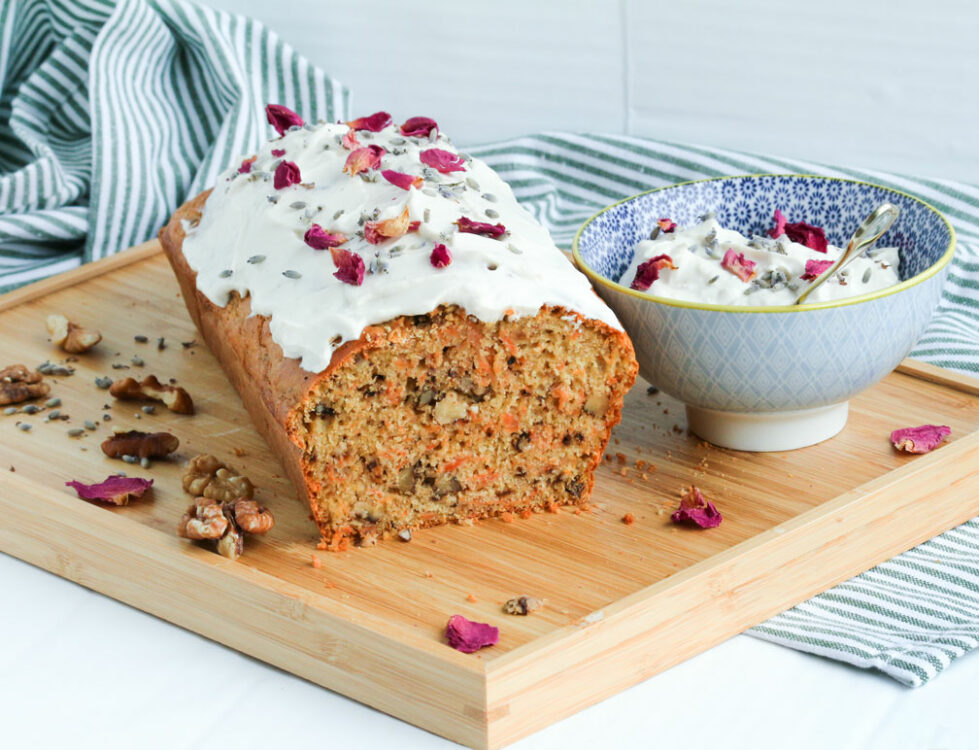 NOTE
You can use vegan yoghurt or Greek yoghurt for the cream.
You can change lavender and rose petals to fistic, macadamia nuts or anything else you like.
If you don't have ingredients like coconut oil or coconut sugar, use any sugar and vegetable oil.
The final composition needs to slide smoothly out of the container.
If the mixture it's too hard, you can add 2-3 spoons of milk. If it's too watery, you can add 2-3 scoops of flour.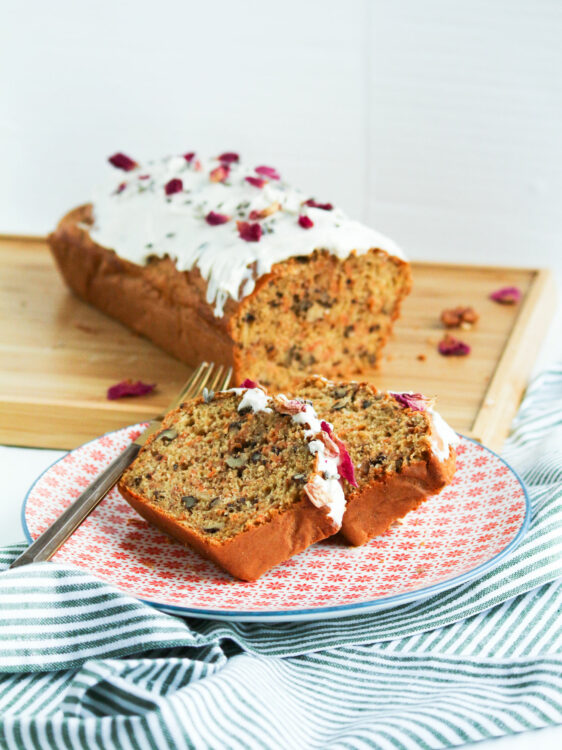 I hope that all went well and your dessert looks and tastes delicious. I'm almost sure that your entire family would love your Carrot Cake. Please share your experience or questions with us. I would love to know how it went.
Until the next recipe, enjoy your Carrot Cake and check out also this Matcha Birthday Cake.
Love yourself,