Last year, I made my first vegan Matcha Cake for Arun's birthday. The recipe was also one of my first blog posts. A year has passed, my blog has turned one year old, and Arun Sai is now two years old. So far, I have learned so many things from this experience with my blog and the motherhood journey. 
Right now, as I write this blog post, I feel tired, happy, humbled, inspired, full of life, with ideas and creativity and overwhelm by the intensity of the process. I also feel loved and strong all at the same time. It is an exciting journey that I have embarked on, and I can only be grateful for everything. 
For Arun's second anniversary, I decided to make a Pistachio Cake with Lime and Basil. The main ingredient is pistachio because, lately, Arun has an affinity for it. This is the first time I'm making this cake, and I'm happy with how easy it was to make it and how delicious it turned out. 
We are in the process of eliminating dairy products from our diet, so we experiment with different kinds of products like hemp milk, soy yoghurt, and vegetable butter. The process is challenging and empowering at the same time. I used both vegetable and dairy products for this recipe, but you can choose what you prefer the most. Dare to be creative and adapt the recipe to suit your tastes and that of your family. 
I believe words and thoughts have tremendous power. The mood you're in when you are making something to eat is transmitted to the dishes you make. With this in mind, during the preparation of this Pistachio Cake With Lime and Basil, I repeated in my mind, "May all who eat this cake be blessed with love, abundance and wellness." I also repeated the word "Love" out loud many times. I believe that it is a beautiful exercise of presence, self-awareness and love. Try it the next time you are preparing something to eat and see how you feel afterwards. 
So, let's have some fun and create something delicious.
Pistachio Cake With Lime and Basil
Yield: 1 (26 cm) cake
Prep time: 2 hour
Refrigeration time: 1 hour
Total time: 3 hours 
INGREDIENTS
Refrigerated
Baking & Spices
2 cup all-purpose flour
1½ tbsp baking powder
1 tsp baking soda
1½ cups coconut sugar
1 pinch of sea salt
2 vanilla pod
Nuts & Seeds
2½ cups pistachios, unsalted
Fruits & Leafs
3 limes
15 medium-sized basil leaves
comestible flowers
Dairy and non-dairy
1 cup mascarpone
1 cup soy yoghurt
250 gm butter, unsalted
1 cup plant-based milk
1 cup of greek yoghurt
INSTRUCTIONS
Preheat the oven to 200 degrees. Spray/butter and flour a round baking pan. 

Pulse 2 cups of pistachios in a food processor or a mortar until it becomes a finely ground powdered form.

In a medium mixing bowl, whisk the dry ingredients together: ground pistachios, flour, baking powder, baking soda, and salt.

In another bowl, beat 200 gr of butter with a mixer on high until it is smooth and creamy, for about 2-3 minutes. Add 1 cup of sugar and beat for another 2 minutes on high. Add vanilla pod seeds, 4 egg yolks, mix until combined. I encourage you to use a vanilla pod instead of an essence — where the artificial vanilla extract comes from. 

With mixing speed on low, combine dry ingredients with butter mixture, soy yoghurt and milk. Mix until a few dry streaks remain.

In a medium mixing bowl, using a hand mixer, beat 4 egg whites until foam forms. Using a rubber spatula, gently fold into the batter until incorporated.

Place in the oven and bake for 35-40 minutes or until the top springs back when touched.

Remove from the oven and allow the cake to cool in the pan for 15 minutes before inverting onto a wire rack to cool completely.

 Frosting. In a bowl, beat 50 gr butter on high until it is creamy. Do this for about 2 minutes. Add one vanilla pod, half a cup of sugar, zest and juice from 3 limes, finely chopped basil and mix until combined. Add mascarpone, Greek yoghurt, 1/2 cup of ground pistachio and mix on low until a smooth, creamy frosting forms. Place the frosting in the refrigerator until the cake is cooled down.

Spread the frosting over the top and sides of the cake. Chop some pistachios and sprinkle on top of the edges. Use comestible flowers like dandelion, rose petals or lily or basil leaves to decorate the cake.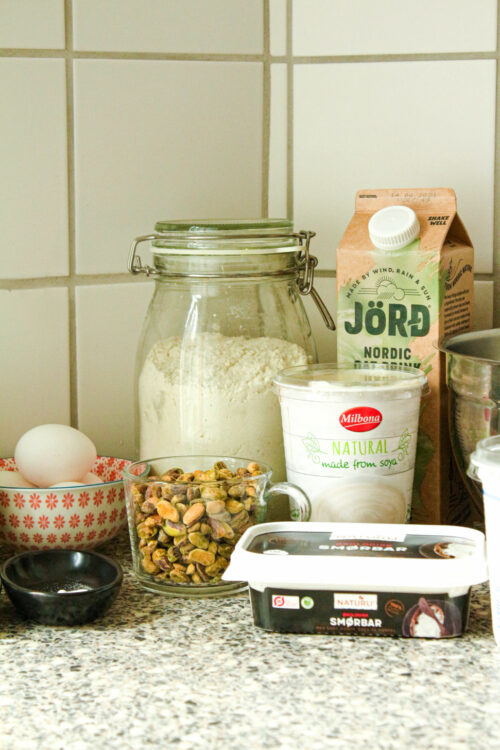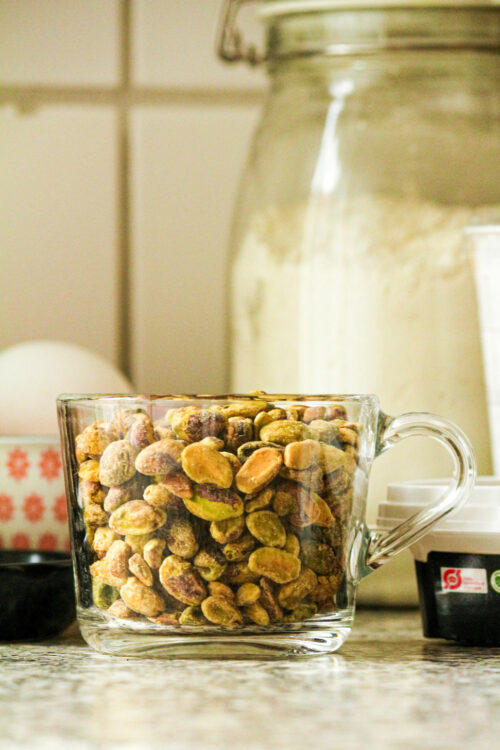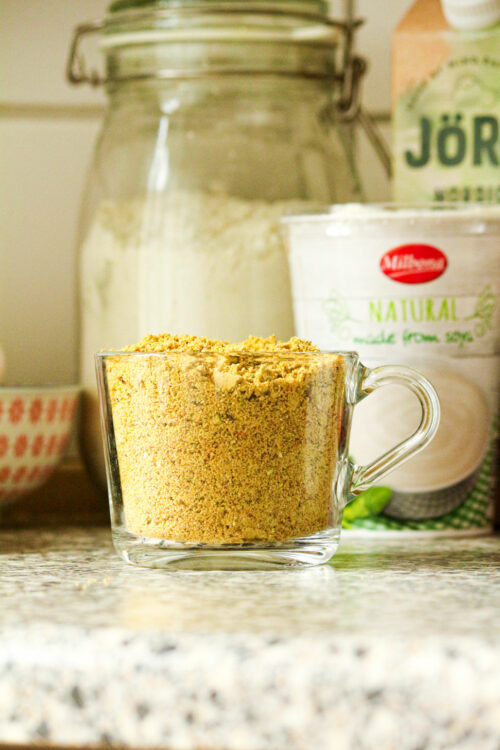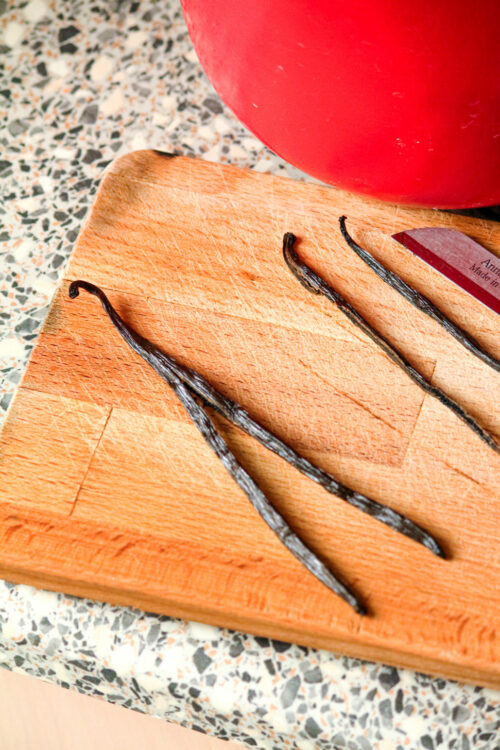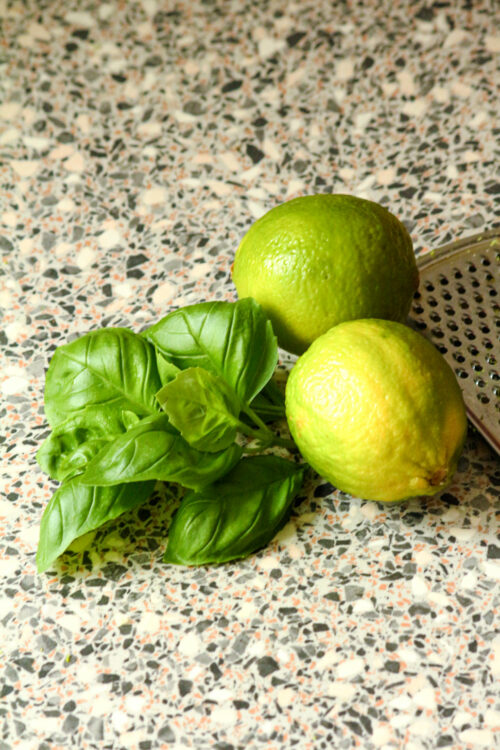 I hope you had a good time making this cake and that everyone who will taste it will appreciate all the dedication and love you have put inside this Pistachio Cake. Remember to sprinkle some love and blessings on top of your cake.  
Please write to me in the comment box below if you have any questions or you want to share your experience in making this delicious cake. Also, check out this Easy And Healthy Carrot Cake Recipe.
Remember to love yourself,