Good gifts have the power to inspire and change people. But when we consider the different aspects that make a good gift — the needs that a person has, the time invested, your personal touch, a sprinkling of love. Then the result is almost always the same; a smile on the face, a feeling of joy that rushes in the body, and a sense of connection and gratitude on both sides. These are moments to remember. We always remember the people who made us feel cherished and appreciated. gift ideas
Let your gifts have an impact in this world, be remembered and be an inspiration for others. Gifts have the power to change perspectives, so use every chance you have to do so.
I know it's not an easy task, especially if you are a person who cares for others. This is why I thought that this blog post could be of help. So let's get through them and find the perfect gifts for your family and friends.
*Disclosure: I only recommend products I would use myself and all opinions expressed here are our own. This post may contain affiliate links that, at no additional cost to you, I may earn a small commission. Thank you!
Books
When I was younger, I couldn't understand how someone could be happy when receiving a book as a gift, even though I wanted to be one of those people. Now, many years later, I can't understand how someone wouldn't be happy when receiving a book. Well, I know how, but you got the point. Books have this incredible power to inspire and change people. These are some of the books I read and listened to this year and that touched me in various ways.
The Bhagavad Gita by Eknath Easwaran
This book carved deep into me and my ego. I listened to it four times and had some of the chapters on repeat many more times until I learned the phrases. Bhagavad Gita means "Song of the Spirit" — the divine communion of truth-realization between man and his Creator, the teachings of Spirit through the soul.
It is a timeless book that has changed the lives of so many people and mine also. The truths contained in this work are indisputable. The Bhagavad Gita turned my world around. It is the best book I have ever encountered in my life.
Raising Boys in the 21st Century by Steve Biddulph / Raising Girls in the 21st Century by Steve Biddulph.
Oh, these books are such a treasure. I believe parents know instinctively how to raise their children. This is normal. But when we live in an abnormal world, we sometimes don't recognize our instincts and gut feelings.
Fortunately, some writers out there can gently guide us with the help of the medical, psychological, physiological and emotional knowledge they have acquired over many years of research.
Raising Boys/ Raising Girls are two friendly and practical guides to the stages and issues in boys' and girls' development, from birth to manhood and womanhood.
Fully Human by Steve Biddulph
In this book, the author describes personal stories from his own life and those of his clients. He shares the knowledge behind each story. Also, he speaks about the frontiers of thinking — how the brain works with the body and the wisdom of the 'wild creature' inside all of us.
At the peak of a lifetime's work, one of the world's best-known psychotherapists and educators shows us how we can be more alive and more connected to one another.
Fully Human had a significant impact on me and the way I now listen to my gut feelings. As a result, I pay more attention to them and I recognize them much faster. In addition, this book helped my logical mind connect much faster with my other inner worlds.
Greenlights by Matthew McConaughey
I don't think you can go wrong with this book, maybe only if you give it to the 0.0001% of the people that doesn't like Matthew McConaughey.
"It shouldn't surprise you that this book is good, but it will surprise you just how good it is. Wise and entertaining, this is an inspiring memoir and how-to from one of the great outlaw philosophers and artists of our time." — Ryan Holiday, author of The Daily Stoic.
"McConaughey's book invites us to grapple with the lessons of his life as he did, and to see that the point was never to win, but to understand."— Mark Manson, author of The Subtle Art of Not Giving a F*CK
I enjoyed Greenlights to the fullest. I laughed and I cried, I was inspired, stunned and empowered. It was a true pleasure to hear it. I recommend listening to the book read by Matthew. It's a delight for your ears.
I am enough: Mark Your Mirror And Change Your Life by Maris Pear
If you started your self-understanding and self-development journey, this is a book to read. "I am enough" gives a great insight into our thoughts, feelings and how this affects our entire being.
How our words and thoughts affect our lives, how we came to think the way we think, and why saying I am enough can prepare your life for the changes you have long waited for.
Digital wall art
I have created a series of printable posters inspired by the quotes and messages I have encountered in my life. Digital art plays a significant role in my life. These posters are expressions of my creativity, feelings, understandings and passions.
I believe they can be beautiful and inspiring gifts that can bring a ray of sunshine and gratitude for life, in the lives of those who will receive them. If you feel the same, you can find all my posters in the shop. You will need to download the files, print them, frame them and wrap them as a gift. The file will include all the details for printing and framing. See all digital art.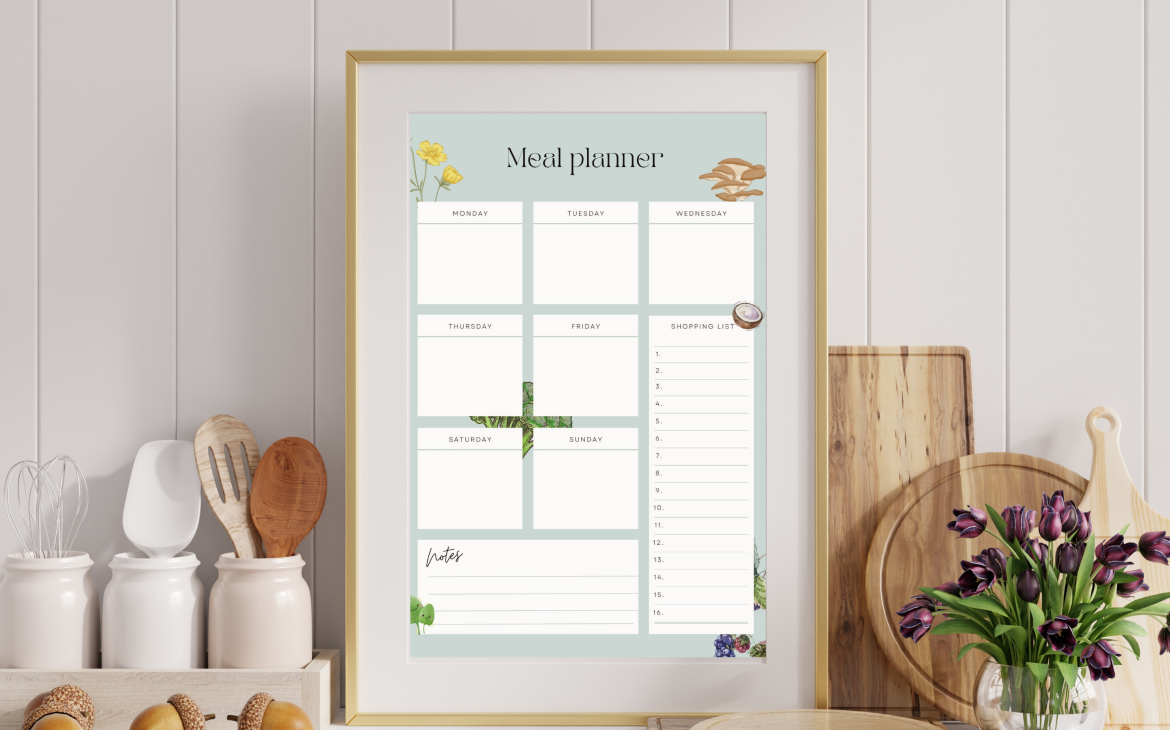 Apps
We all use apps nowadays and pay every month for some of them. If you have an app that you think is useful for you and that has helped you in any way, you can share it. Make a monthly or annual app subscription as a gift so the person would experience and benefit from it. Below are two apps I regularly use and that have improved my life.
FitOn
This is an app for movement, which I have been using for a year now. They have many kinds of exercises — yoga, fitness, meditation, pilates and much more. You can choose programmes depending on your available time or even participate in live training—all for free.
FitOn also has a paid plan in which you receive personalised meal plans, 500+ exclusive recipes, offline downloads and many other things. The price is 39 USD per year.
Balance
This app is balanced and brings balance. It has innovative experiences, like Vibration-Based Immersive Meditations or Interactive Wind Down Single. The voices are pleasant and peaceful, and the plans are well thought out.
Balance breaks down meditation into concrete and trainable skills, and it tracks the time you spend practising each day. I have found myself applying things from their meditation in my other meditations or at times, during the day. Things like posture correction, face relaxation or breathing techniques.
The app is free for the first year. Afterwards, the price is 17 USD per month.
Sustainable
​​Natural Coconut Bowls & Spoons
These coconut bowls originate from the Bên Tre region in Southern Vietnam. For many years, the local farmers have made a modest income from selling coconut by-products such as coconut oils and coconut milk. Once harvested for their prized possessions, they burn the discarded cocos shells to make way for the new crops.
By using these coconut bowls, you are helping to provide the local farmers with a secondary income and preventing more coconuts and trees from being needlessly burned as waste.
Palo Santo from Peru. Sustainably Harvested – 100 Grams
Palo Santo is an enchanting tree that grows in the coastal areas of South America. It is related to Copal, Myrrh, and Frankincense. Palo Santo means "Holy Wood". Shamans and healers traditionally burn it for its energetic purification and healing attributes. When burned, it produces an enriching aroma that increases your vibration when preparing for meditation. It also leaves a delightful and lasting fragrance in your space.
*SERFOR National Forest Service and Wildlife certified.
Zero Waste Gift Box
We all have to start somewhere, so why not now? Many of my friends and family members don't know where and how to start living more sustainably — what to buy or not, which products to change, where to start and so on. If you've had some of these thoughts or discussions, don't waste this opportunity to make a change. Push the boat out with this Zero Waste Gift Box on the plastic free journey. Little by little, we can end the plastic regime.
Tree of Life Alignment Cork Mat
The Scoria Cork Mat delivers supreme traction when practising your movements. The mat is made of natural cork and natural rubber. Besides, it has a beautiful design and has no PVC, Perr, TPE or harsh chemicals.
The brand offers a portion of their income to support play-based education for life skills & healthy living for indigenous youths in partnership with Right To Play.
Children
Play kits from Lovevery
I like this brand so much because it has beautiful and creative toys made with care and sustainably harvested wood, organic cotton, non-toxic paint, and baby-safe plastics. Their play products are designed by child development experts and distilled to their simplest, purest purpose: to be exactly what children need at each stage.
Lovevery brings academics, researchers, and practitioners from a wide range of disciplines together for a holistic approach that is simple, accessible and relevant to you and your baby.
Besides this, they offer the possibility to subscribe to their play kits and receive them at the right time for your baby, when your child hits new milestones — 0-12 months, one year, two years or three years.
Montessori children's knife and cutting board: handmade.
Children love to help and be independent under our careful supervision. From my experience with Arun, cutting his banana at the age of 2 years and 4 months was empowering for him. He felt so proud of himself and his achievement.
Both elements of this set are handmade! All corners of the boards are milled out and individually polished by hand so that everything is nice and soft and flatters the hands. The "knives" are manually tapered for sharpness and edges are smoothed to give a comfortable hold in a small hand. The knife and board are rubbed with a mixture of beeswax and linseed oil. The product is natural, contains no chemical elements and smells pleasantly of wood.
Wooden Archery Set for Boys and Girls (engraved with child name)
Archery helps to train kids to be more focused on each task at a time.
This Archery Set will help your child to set goals and also know how to set them. This is very important for personal growth. It allows you to realise what needs to improve and then set goals to hit those new targets. Archery helps our kids learn how to set these goals, a skill they can adapt into their day-to-day life.
Learning how to become an archer is very much a step-by-step method i.e nocking the arrow, drawing the bow, aiming and finally shooting. Arun alawys has a great time when he plays with his archery set.
Wooden Tea Set Toy (custom colour choice)
This cute handcrafted Wooden Tea Set has everything little ones need to host the perfect tea party. Mix and match with cake and cupcakes to create a perfect party scene. It will make an original and eco-friendly gift for Christmas or any other occasion.
Wooden Magnetic Fishing Toy
This Wooden Fishing Toy is a helpful gift for boys and girls. The toy is carefully polished and impregnated with edible linseed oil and beeswax. It is fun and helps your child develop motor skills.
Leaf Play Mat from Natural Linen
This stylish leaf shaped rug is inspired by nature. The outer material is 100% natural high quality linen. Inside contains hypoallergenic silicone fibre. I adore this leaf. It makes Arun's room so playful, natural and vivid. We have had a yellow leaf since it was born, and he has used it so many times.
Montessori Wooden Play Kitchen—Mahogany Wood
If you're in for something big, check out these beautiful kids kitchens. They caught my attention and admiration.
The bespoke wooden play-sets are made locally, from outsourcing materials from distributors in the EU to make them sustainable and eco-friendly. The brand uses FSC certified Baltic Birch Plywood, 0% VOC plant-based hard-wax oils and water-based eco paints (EN 71-3:2019), safe for kids. So your little ones can actually place food and "cook" there.
For Everyone
Kalimba ​​

gift ideas
Kalimbera produces high-quality handcrafted Kalimbas from pine and mahogany wood. They also have very nice features — you can engrave a symbol or a name on your Kalimba, for each Kalimba sold, they plant a tree somewhere in the world, they offer free shipping worldwide.
I have had my Kalimba for quite a while now and I can say with all my heart that it is such a great instrument. It's easy and fun to play and the sounds are a delight for the ears.
If you will want to purchase a Kalimba from Kalimbera, be sure to insert code – mushroomdana – and you will receive a 6% discount on your order.
Love Cocoa

gift ideas
How doesn't love chocolate? Love Cocoa has 200 years of tradition in the chocolate industry. They use single-origin cacao, which is in the top 8% of the World. Their cacao is from Colombia, Peru and Ecuador, handcrafted into unique luxury chocolates, and presented in beautiful chocolate boxes. As a result, they have the finest chocolate in the world.
One bar = One tree. Love Cocoa plants a tree for all chocolate bars, nibbles and truffles they sell. All their products are so tasty, refined and beautifully packed. They also have vegan products.
Smart Natural Wood Mini Book Light – Walnut
The natural wood Smart Mini Book Light is a beautiful piece of art for any home. When closed, this smart light masquerades a laser-cut wooden book. When opened, it transforms into a sculptural light that emits a beautiful ambient warm LED light through the pages.
This design opens to full 360 degrees with cleverly concealed magnets. It has lovely soft touch papers that are lighted up by long-lasting LED lights. It is tear-proof and water-resistant.
London Nootropics

gift ideas
Mushroom coffee is a blend of coffee and medicinal mushroom extracts. London Nootropics use lion's mane and cordyceps mushrooms along with other adaptogens with synergistic properties.
Medicinal mushroom extracts are adaptogens – they help our bodies and minds adapt to physical, mental and emotional stressors. Blending them together with a fine micro-ground coffee creates an earthy, delicious cup of coffee with additional health benefits.
This can be an incredible gift for a coffee lover. Experiencing new things is always a good thing for our physical and mental health.
Sacred Geometry Wall Art
A mandala is a magnificent and harmonious symbol denoting symmetry and universal unity. It carries positive energy and a creative beginning. Beautiful reliefs and forms of this wall decoration perfectly complement both classic and any thematic interiors of various spaces.
I have times when I meditate looking at the mandala on my wall. It gives me a sense of peace and order.
Smart Diffuser Lamp – White Ash
I simply adore diffusers. They make homes cosier, beautiful and with the suitable essential oils, more healthy too.
The Smart Diffuser Lamp can help you to relax while enjoying the beautiful light that radiates from it. A portable and natural wood ambient desk light with a seamlessly integrated copperplate oil burning diffuser.
Cosiscoop Terracotta Fire Lantern
We love to spend time outside, on our terrace and gaze into the fire. It gives a sense of calm and peace that remains with us for many days that follow.
Cosi Fires Terracotta Fire Lantern can inject some homey ambiance into your outdoor evenings too. Whether it is dinner around the garden table or a casual drink on the balcony, the terracotta fire lantern is the ideal way to warm up as the night draws in.
Environmental & Child Care

I believe we need to rethink gifting in order to make it greater than ourselves. It has to serve greater purposes too. Step by step, we can transform the heavy impact on this planet, resulting from our messy lifestyles. Below are three organizations you can consider when thinking of a gift. It is always a good idea to offer a donation for a cause as a gift, in the name of the person receiving the gift.
Nori
Our warming atmosphere puts us on a collision course with extreme weather, food shortages, mass extinction, and social unrest. We've already emitted more carbon than we are supposed to, and we're not reducing it fast enough. The threat is real and it will affect everyone.
We need to radically reduce our carbon emissions and remove the excess from our atmosphere to avoid climate catastrophe. This is where Nori comes into place.
Nori is a transparent, verifiable and high-quality carbon removal marketplace. Check out what they do and how you can make an impactful gift – an erase of carbon footprint for someone.
Tree-Nation

gift ideas
I found out about this website through Kalimbera. They are partners with this brand, and for each Kalimba sold, they plant a tree. I find the idea so inspiring and beautiful. So why not expand it. I believe planting a tree for someone as a gift is something unique and beneficial to all of us.
Tree-Nation is the simplest way for people and companies to plant trees around the world. I know, we all want to plant trees and not someone else in our place. But until we actually do it, we can try this way too. So make a memorable gift to your beloved ones and to the planet. Plant a tree.
You will receive a certificate with the person's name and the place where your trees will be planted.
Save the children

gift ideas
This is a humanitarian independent organization for children that helps protect children and ensure they survive and thrive. Save the children is an organization that has helped numerous children so far.
Children are the most vulnerable and precious treasures we can ever have. The adults that surround us were once children who maybe needed the involvement of caring and supportive adults.
Donate on behalf of your friends or family and offer them this as a gift. Don't you believe that someone who will receive such a present will feel good in his heart? Knowing that he contributed to something greater than himself?
Homemade
This kind of present can complement the other gifts you have chosen to make. For me, this is the love and fun part. How better can you express your love for someone if not through something you have made with your hands? The secret ingredients of such gifts are your time and love. Two ingredients that money can't buy.
Needless to say that it can be a fun activity to have with your kids. They will feel involved in something beautiful and creative. They will be empowered and their self-esteem will grow exponentially.
Cookies
How will it be if this year, you do three things at once? Spend time with your children, cook some delicious cookies and also make a few presents? I know, it sounds crazy and fun.
This simple and easy cookie recipe will delight the entire family and be fun for kids to make it. It is healthy, beautiful and vegan. The recipe is for around 100 cookies in 5 different flavours. See the recipe.
Bath Tea
We all know the benefits of drinking a cup of tea, but did you know that you can also bathe in tea and enjoy numerous benefits? Bath time is a time of relaxation and pleasure, so why not take it to the next level and bathe in minerals and flower petals. This can be a beautiful and useful gift you can offer to everyone because we all need a long, relaxing and nourishing bath.
Men can also receive these bath teas. You will only need to change some ingredients as described below.
Ingredients for her
Dried roses

Dried lavender

2 cups Epsom salt

Dried calendula

Dried chamomile

Essential oil of your choice – lavender, bergamot, patchouli, eucalyptus.
Ingredients for him
Dried lavender

Dried ​​cornflowers

2 cups Epsom salt

Essential oil of your choice – vetiver, peppermint, sacred sandalwood, ginger, tea tree.
Instructions gift ideas
In a container, mix the ingredients for her and in another container mix the ingredients for him:
2 cups Epsom salt

10 drops of essential oil

3 tablespoons of lavender

4 tablespoons of calendula

3 tablespoons of chamomile

4 tablespoons of roses/cornflowers
Packaging
Pour the Epsom Salt Tea you just made in small jars or small bags (use muslin or tea bags). If you use bags, store them in an airtight jar until ready to use. Advise your dear ones who will receive this gift to drop one bag into the bathwater, hang it under the running water or pour two spoons in the bathtub.
Roses & cornflowers – soothe the skin, add fragrance, and look so beautiful in a bath.

Epsom salt – detoxifies, soothes sore muscles, reduces stress and inflammation.

Lavender & chamomile – calms you down and prepares you for a better sleep.

Calendula – has antibacterial and anti-inflammatory properties.
Stovetop Holiday Potpourri
Let the natural aroma of Christmas fill the souls and homes of those you love. This easy-to-make stovetop potpourri are the perfect treat for friends and neighbors. Let your creativity run wild and create some fantastic gifts. gift ideas,
What do you need gift ideas,

Cloves

gift ideas,

Star anise

gift ideas,

Cinnamon sticks

Pine sprigs, fig branch or rosemary

Dried orange, grapefruit, lemon or apple slices

Nutmeg & cinnamon powder (half and half a teaspoon)
Packaging gift ideas
Jars

gift ideas

Gift tags

gift ideas

Red and white twine, jute or ribbon
How to gift ideas

Insert all the ingredients from above in a jar, making sure they are arranged exactly to your liking.
Instructions gift ideas
The person who will receive the jar will have to turn the content into a pot, cover it with water, simmer it on low heat and enjoy the unforgettable smell.
I hope you found my proposal interesting, beautiful and easy to make. Please leave me a comment if you have tried any of my recommendations or if you have others you wish to share with us. We will love to discover new inspiring gift ideas.
Remember to love yourself